Our Results says everything
Listen from our Successfull Aspirants
The Botany optional test series of Gallant IAS & Morison Sir, mentorship was very helpful in clearing the exam. Also interview guidance and support especially from Justin Sir, immensely helped me
The one on one interaction arranged by Gallant IAS with Ramith Chennithala sir was one of the decisive turning points in my approach towards interview. Sir told me to try to maintain a conversation. I think that strategy helped me to be calm and conversational during the interview and it paid me off. I would like to thank Justin sir for all his support and wishes.
I was lucky to have undergone civil service history coaching under Justin Sir, who is undoubtedly one of the best faculties for History. He explains the sequence of events in History in a subtle way, which helped me in attempting multiple choice questions as well as writing analytical answers for the mains. I have relied almost completely on the notes which I have taken from his classes for revision for the Mains exam.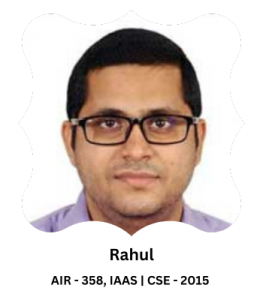 Justin sir supported me and guided me especially in my history preparation for Civil Service Exam Prelims, also he has been one of my great mentors in mains answer writing and essay etc. I'm pretty sure that students will really benefit from his class and mentorship in history and optional.
During my preparations for UPSC in 2015, history was one of my weak areas. Justin Sir's elaborate notes on various topics ensured that no aspect of any topic is missed. So instead of ramming through multiple sources, these notes were self sufficient in itself. I also appreciate the dedication of Justin Sir for being a self made man who created his expertise by learning things from scratch solely for the purpose of teaching. Good luck to his endeavours.
I've attended Justin sir's GS history classes in 2014 and 2015 and was able to gain knowledge on several facts and events in history. Through his detailed explanations and illustrations on historical facts and events, sir has made history easy to understand for a layman. Another major aspect is the notes prepared by sir for Ancient India, Medieval India, Modern India and Art and Culture, which is relevant from the UPSC point of view.
Justin sir has always been a guide for learning history for Civil services exam for me. Also he has always been a source of support for me during my preparation. I have been admired by his dedication towards his students and the love they give back. I am sure, aspirants would really benefit from his guidance in history.
The mock interview from Gallant IAS was really helpful in my interview preparation. Thank you team Gallant IAS for your immense support
History classes by Justin sir helped me immensely to get a strong hold on the subject.. He makes history interesting and lively by explaining things lucidly and precisely. Thank you sir for those informative sessions